Telehealth vs. In-Person Care
While a telehealth visit is better than not seeing your doctor at all, in-person visits are still necessary to stay on top your health and prevent any complications or worse problems down the line.
When you have a chronic rheumatic disease, there can be serious "silent" risks of avoiding medical care. Persistent inflammation that goes unchecked can lead to irreversible joint damage and may impact other parts of your body, like your heart and lungs.
The decision of whether to have an in-person vs. telehealth visit is one you should make with your rheumatologist, but here's a sense of which health issues are best suited for each kind of visit.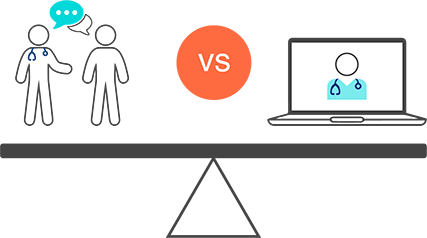 Telehealth Visits Work Best For:
Routine care and follow-up for stable patients who have an established diagnosis, know the rheumatologist well, and have no new symptoms or issues.
Minor flares and stiffness. On a video exam, your doctor can see if you're having issues with your range of motion or daily function that might then necessitate an in-person visit.
Non-severe medication side effects like fatigue, sleep issues, gastrointestinal issues, or headaches.
RAPID3 questionnaires, or other disease activity measures, can be done via telehealth to inform your rheumatologist about how your condition is doing without the need for blood tests to check inflammation levels.
Some medication adjustments, including changing dosages. However, you still need to get regular blood tests done. Some doctors prefer to discuss bigger medication changes in person, such as starting a new medication or switching from one kind of medication to another (say, going from an oral pill to an injectable biologic).
In-Person Visits Work Best For:
New Patients. While it is possible for rheumatologists to see new patients via telehealth, many prefer to do so in person, especially if someone does not have an established diagnosis. Your doctor will likely want to perform a physical exam, order imaging and bloodwork, and discuss your personal and family medical history.
Yearly visits. Stable, well-controlled patients can use telehealth for routine checkups, but it's still a good idea to have at least one annual visit in person.
Lab work. It's important for your doctor to monitor your bloodwork to make sure your things like your blood count and liver function are healthy, especially if you start a new medication or adjust the dose.
New or worsening symptoms. You know your body best: If something doesn't feel right, get it checked out. For example, a psoriatic arthritis patient who has worsening ankle pain and concerns of enthesitis (inflammation where tendons and ligaments connect to bones, such as at the Achilles heel) should come in person.
Patients with high-risk disease that involves a vital organ. People who have rheumatoid arthritis with interstitial lung disease, for example, should be seen in person more often than not. Telehealth visits may still be okay for certain situations, but patients whose disease is not well-controlled or who have a lot of comorbidities should not be treated solely through telehealth.
Medications and procedures such as infusions or in-office injections. Patients on biologic infusions need to come into the office regularly, as do patients who need a cortisone shot or a joint aspirated.
This resource was made possible with support from AbbVie, Inc.